€932/month
next goal: €1,000/month
Do you like what Failed Architecture is doing? Then consider supporting us on a monthly basis, so that we can continue the project, do even more and do it better.
Since 2011, this has been a largely unpaid, voluntary project fueled by a sense of urgency and driven by hundreds of hours of free labour every month. This is unsustainable.
Scroll down to see what we have already achieved since the start of this campaign, what we're doing with the money coming in, and why we still need your support.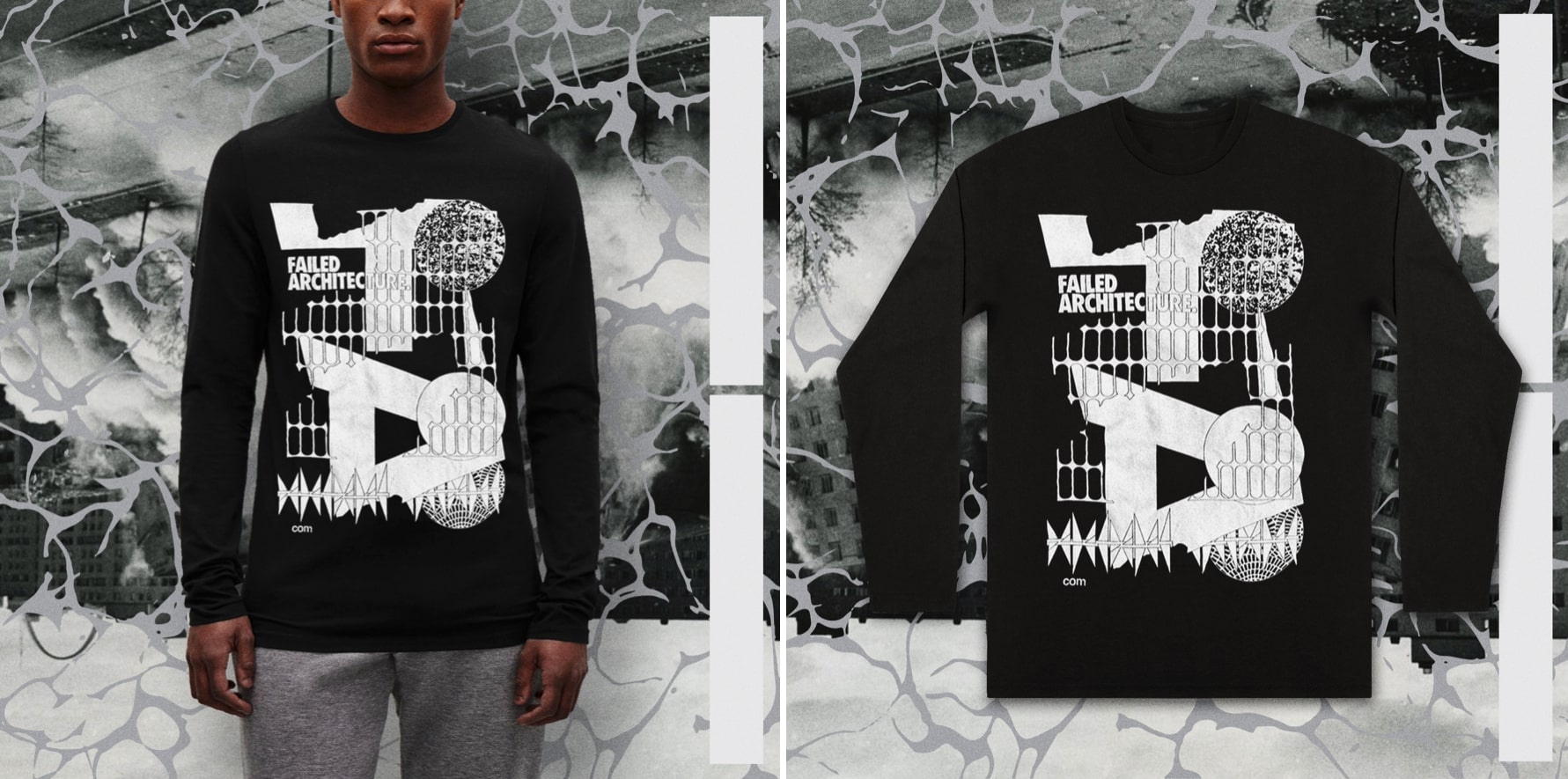 Two weeks only! Get the limited edition Failed Architecture long sleeve T (designed by Kees de Klein) when you donate €10 per month or €100 one-off. How? Just make the donation and send your address and size (they come in standard men's S M L XL) to longsleeve@failedar.ch so we can ship it to you at the end of the month.
Please select a monthly amount, or choose to make a one-time donation.
Support Failed Architecture
Here's what we intend to do with the money you give us. After meeting the initial needs to keep FA alive, your support can allow us to properly compensate for professional work, and increase our output. Until we approach our final goal the FA collective will continue to be a voluntary endeavour, with the editors having to run the platform in their spare time.
reached
cover the most immediate technical and administrative costs
reached
pay a writers minimal compensation for articles
reached
give editors a tiny fee
next goal
pay writers €150 for each published article
future goal
spend €150 on every article so that two editors can work on it
future goal
publish approximately one article per week
future goal
pay a symbolic fee for all the work on FA podcasts
future goal
allow for actually paying the FA team for their efforts
These generous donators make Failed Architecture happen:
A. Ganpatsingh
Aaron Guthrie
Aaron McLaughlin
Adam Nowek
Agnes Lundberg
Aiste Stragyte
Alan Jones
Alan Mee
Alban Karsten
Alejandro Hernandez Galvez
Alexander Charry
Alexandre Furtado Melville
Alex Soriano
Alice Sweitzer
Amna Solati
Amy Gill
Ana Maria Ionescu
Anamarija Vržina
Andrea Andrich
Andrea Verdecchia
Andrew Clancy
Andrew Fergus
André Günther
Anne-Marie Boer
Antonia Adey
Antti Auvinen
Apolline Malevez
Ariel Bintang
Arik Day
Arna Mackic
Arthur Seefried
Art Kallen
Asher Kohn
Astrid Vorstermans
Aubrey Sterling
Autumn Trillium
Bart Jan Polman
Basil Salomon Helfenstein
Ben Smart
Boostarchitecture
Bradley Garrett
Callum Gauthier
Carlijn Kingma
Catalina Iorga
Celine de Waal Malefijt
Chaitanya Krishna Kumar
Chandell Gadbois
Charity Edwards
Christian Zammit
Christina Stra
Christine de Baan
Christin Hu
Christopher Banks
Chris Williams
Claartje Rasterhoff
Constantina Antoniadou
Corina Popa
Covid Commons
Crimson Historians and Urbanists
Damon Rich
Dan Achim
Dana Foenander
Daria Scagliola
Dario Goodwin
Daryl Mulvihill
Davide Tommaso Ferrando
David Kulen
David McWhirter
Delany Boutkan
Demah Alsinan
Derek Felten
Diana Rodriguez
Dineke Blom
Dirk Sijmons
Dominik Reisach
Dominique Geelen
Donald Friedman
Donald Weber
Donnie Gonzales
Dorus Stokhof
Douglas Spencer
Dubravka Sekulic
Eddie Blake
Edoardo Quattrucci
Ed Taverne
Elena Khurtova
Elena Shulgina
Elisa Grasso
elise hunchuck
Ellen Butchart
Emilio Brandao
Emmett Scanlon
Eric Lawler
Eric Marcus
Ethel Morgan
Evren Uzer
Fallon Walton
F B
Femke Bijlsma
Francesca Miazzo
Freek Persyn
Gabriel McWhirter
George Blaustein
Georgie Sinclair
Gert Kwekkeboom
Gilles Provoost
Giorgio Wetzl
Giulia Nardi
Goran Vodicka
Gus van Oppen
Guus Beumer
Hamda
Hani Salih
Hannah Schubert
Hannah Wright
Hans Maarten Wikkerink
Hans Teerds
Harry Tuke
Hendrik Schlimper
Hilary and Mark Clemoes
Hind Mezaina
Homer Wagenaar
Imke van Hellemondt
Ingel Vaikla
Ingrid de Zwarte
Inte Gloerich
Ira Koers
Ira Koers
Iris Van der Spoel
Iris van der Wal
Iwan Baan
Izzy Youngs
Jack Clemoes
Jacobo Antonio Cleto Garza
Jacob Soule
Jake Danby
James Clemoes
james hull
James Taylor-Foster
Jamie Jensen
Jan Holst
Jan Loerakker
Jan Nauta
Janno Martens
Jawad Dukhgan
Jennifer Bui
Jeroen Apers
Jeroen Lok
Jesús Jiménez Hidalgo
Jilles van Eibergen Santhagens
Jiri van Gijsel
Johanna Brandt
John Marx
Jo Kali
Jonas Stappers
Jonathan Solomon
Joram Raaijmakers
Jordana Maisie
Joseph Brady
Joseph Clemoes
Judith Naeff
Judith ten Kate
Julia Albani
Julius Grambow
Julius Jääskeläinen
Jurgen Hoogendoorn
Jurian Strik
Jur Oster
Jussi Laine
Kamiel Klaasse
Kapp Singer
Karolína Vránková
Kasper van Dun
Katarina Koroljova
Katarina Labathova
Kate Ridgway
Katharina Benjamin
Katherine Fisher
Katía Truijen
Kerstin Thompson
Klaas Van der Veen
Koen Bolhuis
Koen Tornij
Kostas Papapagiannopoulos
Lada Hrsak
Lars Tobias Dittrich
Laura Szyman
Leah Bourdin
Lesia Topolnyk
Liam Bell
Lili Zarzycki
Lorna Gibson
Louise Celestin
Louise Cotter
Loïc Lecrenier
Luca Moscelli
Lucía Jalón
Luigi Mandraccio
Luis Verjan
Lukas Elsen
Lukasz Karpinski
Luther Blisset
Maaike Poppegaai
Maarten Hajer
Maarten Terberg
Macha Roesink
Machiel Spaan
Madelyn Albright
Mahaut Dael
Malene Saalmann
Marcel Geerdink
Mariana Martinez
Maria Topolčanská
Maria Van de Poel
Marieke Ladru
Marije Raap
Marisa Cortright
Mark Jan van
Mark Rowe
Marthe van Gils
Martijn de Waal
Martina Germanà
Martin Lucas Eick
Maryam Zainal
Mary Ann O'Farrell
Mathias Mortenson
Matteo Pavanello
Max Smit
Melih Fırat Ayaz
Merve Bedir
Mia Campbell
Michael Blatt
Michael Hayes
Michal Dlugajczyk
Michele Champagne
Michel Prins
Midas van Boekel
Mieke Vink
Mike Emmerik
Milja Hartikainen
Morten Birk Jørgensen
Munish Athif
Nanne de Ru
Nathan van Kleij
Nazakat Azimli
Nicholas Korody
Niels Diepstraten
Nora Akawi
Oana Simionescu
Olaf Thiele
Ola Lanko
Ole Bouman
Oliver Charlton
Oliver Wainwright
Onur Can Tepe
Oreane Edelenbosch
Orest Yaremchuk
Oscar Vos
Paolo Giordano
Patty Lin
Paula V. Álvarez
paul cournet
Paulien Bremmer
Percy Ren
Peter Jensen
Peter Pelzer
Petra Brouwer
Philip Braunstein
Phin Harper
Pieter Cornelissen
Pim Boer
Polina Isyanyulova
Prisca Arosio
Rachel Stella
Rafael Gomez-Moriana
Ramon Scharff
Reinier Klok
Renny Ramakers
Rhoda Koenig
Ricardo Martini
Riemer Knoop
Rik Lambers
Rita Aguiar Rodrigues
Robert Younger
Roel van der Zeeuw
Roman Tkachenko
Roozbeh Elias-Azar
Rossella Ceraolo
Ruben Verkuylen
Samuel Jessop
Sander van Alphen
Sandra Guarda
Sara giannini
Sarah Murphy
Sarah Van Der Giesen
Saskia Naafs
Sean Robert Hussey
Sebastian Hulshoff
Selma Tafro
Sereh Mandias
Sharon Teunis
Sherief Gaber
Shumi Bose
Siddartha Rodrigo Clúa
Simon Franke
Simon Roy
Siri Sia
Sjoerd ter Borg
Steffie de Gaetano
Stephan Petermann
Stijn Kemper
Takami Shodai
Tamara Kalantajevska
Tamar Shafrir
Tara Kennedy
Taya Reshetnik
Tee Aungkasuwapala
Tereza Melkova
Teun van den Ende
Thaddeus Root
Thai Nguyen
Thijs van Spaandonk
Thomas Dieben
Thomas Smits
Thomas Walskaar
Thom van Neck
Tim de Boer
Tim Terpstra
Tim Verlaan
Tinatin Gurgenidze
Tjalmar Verduyn Lunel
Todd Reisz
Tomas Dirrix
Tom DAlton
Tom Laan
Tommi Aho
Tüüne-Kristin Vaikla
Urska Skerl
Vanessa Catalano
Vasylysa Shchogoleva
Veronica Hejdelind
Veronika Kovacsova
Victoria Easton
Vincent Kompier
Vlatka Seremet
Wilhelm Scherübl
William Hayter
Willie Miller
Yezhou Joseph Wang
Yvonne Rutten
Zala Velkavrh
Zorana Protic
Émile Foucher